-
COVID-19 quick test day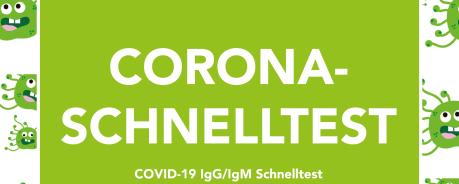 Location
AIDS-Hilfe Sachsen-Anhalt Nord e.V.
Address
Am Polderdeich 57
39124 Magdeburg
Germany
COVID-19 IgG/IgM rapid test
Rapid test for the detection of anti-SARS-CoV-2 IgG and IgM
At the moment our everyday life is characterized by questions, uncertainties and fears about how to deal with the corona virus. Even if this virus did not exist in this special form at that time, we have gained relevant experience since the 1980s in the fight against a fear-inducing virus and the shaping of life under this virus. The HI-Virus posed many similar questions to mankind at that time. Much of what is discussed today seems very familiar to us and reminds us very much of "old times".
One of the most frequent questions people ask themselves then and now is whether they were infected with the virus. With COVID-19 this question is similar and is supplemented by the question whether the body has already fought the virus without symptoms.
For this reason, we now offer a corona test day twice a week. For this we use an antibody rapid test which can detect IgM and IgG antibodies against the SARS-CoV-2 virus within 20 minutes. This test can be used to check whether someone has already been through an infection (IgG) or whether they have a fresh infection (IgM).
Before the test is carried out, we attach great importance to a personal consultation, which includes various topics on the corona virus.
Please note that there is currently no information available as to whether a past infection with the Corona virus results in immunity.
Test days: Wednesdays (15:00 to 19:00) and Fridays (09:00 to 13:00), or by appointment.
The cost of a test, including consultation, is 25.00 euros.
The family Coronaviridae (CoV) comprises several genera and species of viruses. Many of them cause disease in mammals and birds and can be transmitted from animals to humans. Human coronaviruses (hCoVs) were first described in 1965.
The one in Wuhan (China) at the end of December 2019 - probably transmitted to humans by a bat - is a novel human-pathogenic coronavirus. The respiratory disease caused by the SARS-CoV-2 virus is called COVID-19. In Germany, the number of people infected is still limited. Worldwide, almost 98,000 people are infected - and the number is rising. (Status 06.03.2020).
The malice of the coronavirus lies in the long incubation period. It can take between 2 and 14 days before the first symptoms appear. The average value is 4 days. During this time the infected person is already contagious.
Possible symptoms:
Often no or only slight symptoms noticeable
cough, scuffle
Breathing difficulties/breathlessness
Fever
Lassitude
joint and muscle pain
General hygiene instructions
We continue to greet you with a smile and do not shake hands.
Should you feel ill or have a cough, we ask you to refrain from visiting us for the time being.
Our premises are designed in such a way that we can advise you without a mouth guard. We only ask you to wear a mouthguard when taking blood samples. You can either bring it yourself or purchase it from us for a fee of 1,50 Euro.