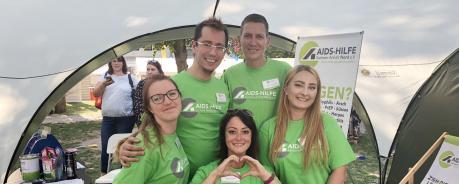 Working honoary at the Aids Hilfe Sachsen Anhalt Nord e.V.
Many of our offers wouldn't be possible without the help of our volunteers. With your honorary work you additionaly recieve new knowledge about HIV/AIDS and other sexual transmitted infections (STI).
minimum age of 18
reliabile and continual work
openness for new lifestyles
willingness for further education
an detailed introduction into the workfield of the AIDS-Hilfe Sachsen-Anhalt Nord e.V.
a qualified further education
reqular group meetings
support through our full-time staff
an insight into new lifestyles
a certification for your volunteer work
You want to work as a volunteer?
In that case we are looking forward to your call! We'd love to answer your questions and give you an overview of our range of offers.